<!||||||||||||||||||||||||||||||||||||||||||||||||||||||||||||||||||||||||||||||>
The 'IBM USB Keyboard with UltraNav' (both the SK-8835 and SK-8845) were released some time between March and August of 2003. Unfortunately the nomenclature for these keyboards became quite diverse-- especially due to the fact Lenovo and IBM were both manufacturing them under different branding post 2005, here's a few other variations of the name:
* ThinkPad USB Keyboard With UltraNav (post 2005 sold under Lenovo)
* IBM UltraNav USB Keyboard
* IBM Keyboard with Integrated Pointing Device
* IBM USB Travel Keyboard with UltraNav (contained an optional carrying case with it)
* Rack Mountable Keyboard and Pointing Device - USB (post 2005 IBM sold them for rack kits, as late as 2008)

Various FRUs: 40K9400, 94Y6108, 94Y6179, 31P8950, 31P9490
To my knowledge these were never released with Microsoft Windows keys as IBM removed all Windows keys on their laptops during a brief period in 2003 - 2004. IBM left the "windows logo is a registered trademark of the Microsoft Corporation" on all of their keyboards just for extra legal security even if absent.
Drivers and Downloads
--> USB Keyboard with UltraNav Software and Installation Manual - Version 4.0 (Windows 2000 / XP / Vista / 7 / 8)
These drivers were extracted from the last release CD-ROM that Lenovo included on their final run before discontinuing it.
Hardware Analysis
These UltraNav keyboards were developed using different membranes and switches than the standard ThinkPad keyboards of the time (which was primarily NMB and ALPS) and instead was contracted by LITE-ON. Therefore they feel different than your standard T42 or T60 keyboard, but in my opinion superior over the T6x Chicony keyboards which have a very unpleasant resistance. They also do not use the standard UltraNav hardware found on ThinkPad keyboards, instead they use a Synpatics TouchStyk and TouchPad. The Synaptics drivers have to be manually configured for the middle scroll button to become activated. The Synaptics drivers do behave differently than IBM's: windows scroll bars can no longer be scrolled when deselected, however you can now scroll horizontally much like a ScrollPoint. Personally I find the 'deselection scroll' to be a more useful feature.
Some users have complained that these UltraNavs lack the 'ThinkPad' feel; while it's true they feel different, they're not terrible and start to feel better the longer you use them and break them in. It's also hard to pin-point the "ThinkPad keyboard feel" since NMB isn't contracted to make the latest ThinkPad keyboards anymore, and every ThinkPad you use will feel slightly different.
The main controller IC has been 'glopped' over by LITE-ON to hide what chip they used that drives the keyboard. The only ICs which are visible are: CY7C66113C-PVXC and CY7C63743. Low quality 'Fujicon' capacitors were used by LITE-ON in the keyboard, therefore if your keyboard eventually suffers from failure; these are most likely what have killed it. They can easily be replaced with the proper tools.
Some SK-8835 and SK-8845s have a different TrackPoint stem implementation for no reason despite the TouchStyk technology being identical on all units.
Trivia
For whatever reason there are conflicting prototype stock images of the SK-8835: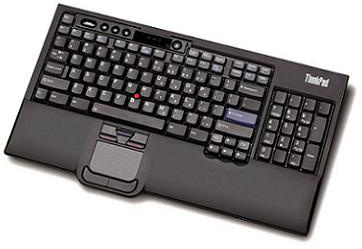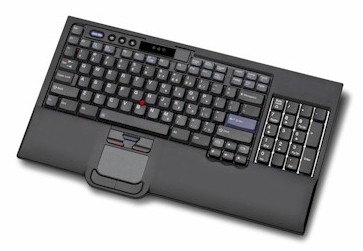 The SK-8835 on the left shows a power button, the one on the right does not. Both have a modified LED indicator screen. Both numpads don't match the early ThinkPad keys and lack the blue enter key like the production units. And finally, both look to be coated in the soft IBM rubber, whereas production units are not.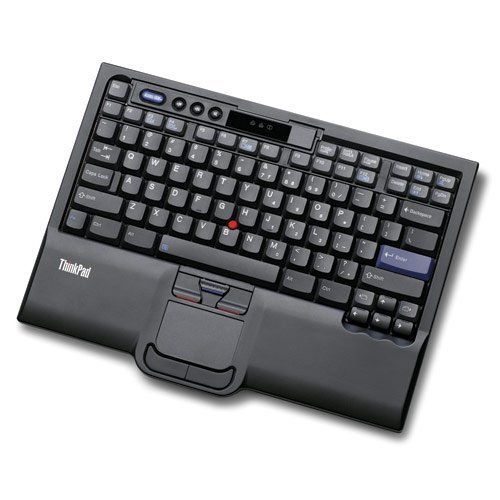 The SK-8845 prototype stock photo (that Lenovo edited, originally it would have had no logos) lacks the power button and also isn't rubber coated. The ThinkPad logo is on the left side, but they were always printed on the right side in production units (the reason being is that the machines making them already printed IBM logos on the right, and it would be a useless expense to re-tool the production).
<!||||||||||||||||||||||||||||||||||||||||||||||||||||||||||||||||||||||||||||||>