<!||||||||||||||||||||||||||||||||||||||||||||||||||||||||||||||||||||||||||||||>
The ubiquitous IBM red wheel mouse has been the standard issue mouse since the ThinkCentre line started (previously the NetVistas had the same mouse, but with glitter injected plastic and black rubber wheels). A far less interesting mouse than the ScrollPoint, however laden with quite a handful of variations and possible mods.
Different Models
MO28BO - Original NetVista Release
The very first iteration of IBM's standard ambidextrous optical wheel mouse paired with the NetVista series of computers. These mice came in either a gunshot metal grey or burgundy. The burgundy variants are probably the most unusual colour an IBM product has ever been released in, certainly very colourful.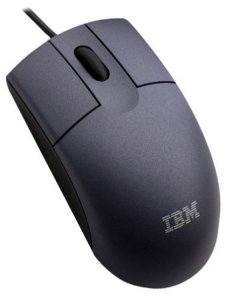 Gun metal metal grey MO28BO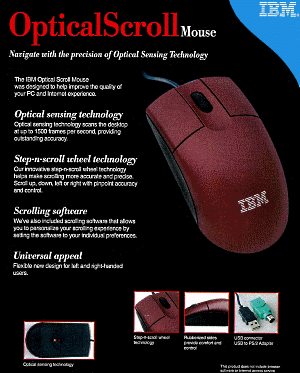 Here is the scanned box art from the burgundy release of the mouse (click it for a larger picture). One thing to note how it states: "rubberized sides provide comfort and control", none of these mice actually were released with rubberized coating! The ScrollPoints were, but not the wheel mice. So IBM was thinking about it and left that unintentionally on the box art; however it appears no one noticed this, not even IBM themselves... (I didn't notice it either until I decided to read every word on the box carefully).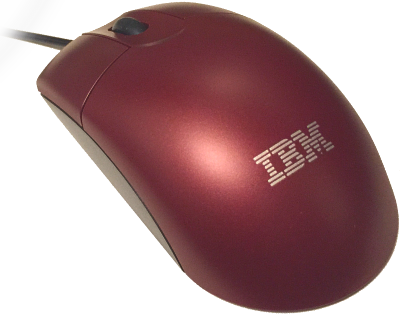 The burgundy mouse has a very vibrant colour, and the buttons are unusually extremely tactile (far more tactile than the red-wheeled mice). I haven't used a mouse that was more tactile than this one. The lower dark plastic is a very dark plum purple colour.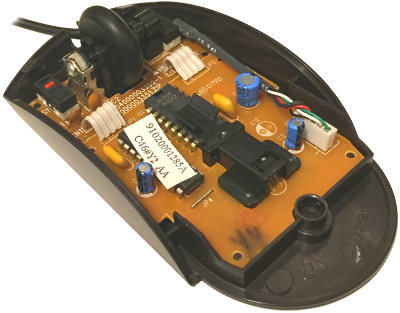 Inside the mouse features two separate PCBs at *very slightly* different height levels-- which could essentially be solved by a single board. I'm not sure why this more (expensive) route was taken as the later IBM mice do in fact use a single PCB. The ScrollPoints excluded as they need another PCB to angle the ScrollPoint mechanism.
RO07UO - Optical Wireless Mouse
This was IBM's first wireless mouse (based loosely on MO28BO and perhaps the first mouse to be released in 'slate blue', although the early slate blue ScrollPoints could have been released during the same time as well). Like all early wireless peripherals, the receiving unit is quite large and does not comprise of a tiny USB stick.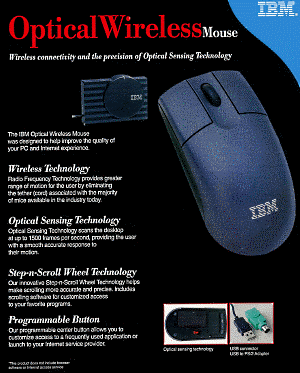 Because the wireless module can be adapted to PS/2, you can run this on any old computer that has a PS/2 port. Including a Personal System/2 Model 95 if you like.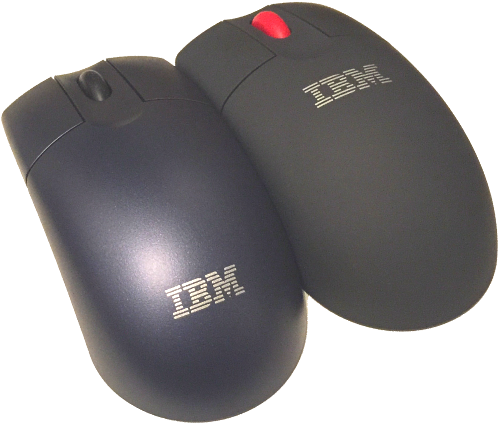 The IBM Optical Wireless Mouse is externally the same as the IBM Enhanced Wireless Mouse.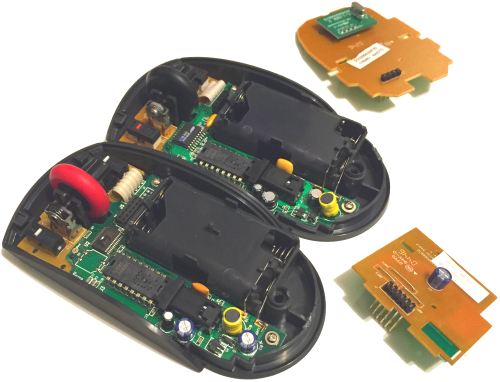 Inside the mice use very similar designs as well-- however the later optical wireless mouse doesn't have as an (elaborately) cut out top receiving wireless PCB.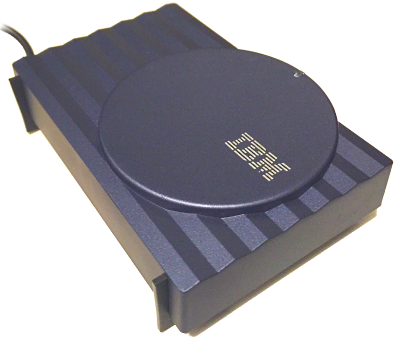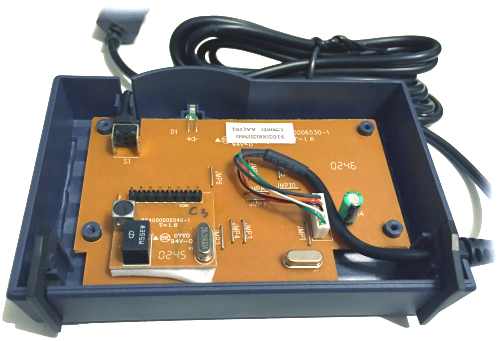 The wireless module is a lot larger than it really needs to be, and is built on a single sided PCB. In this particular one I placed a blue LED in since I think it fits the colour scheme better than the dull green LED originally present.
MO28UO - Original ThinkCentre Release
This mouse has a PCB with an unused diode spot w/ a corresponding resistor. It looks like IBM was intending some sort of internal lighting in the similar fashion like the ScrollPoint? Another difference from the later red wheelers is the fact the IBM logo is printed higher at the same location as a ScrollPoint III. Later ones like the MO28UOL have the logo printed lower.
Regardless, here is the schematic where you'll need to add an LED (3mm) and a corresponding resistor: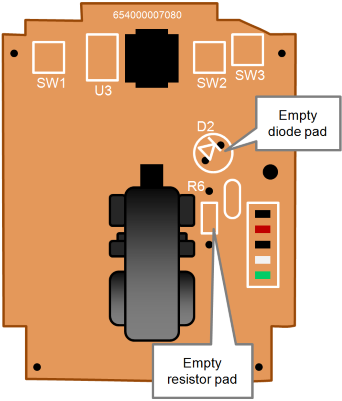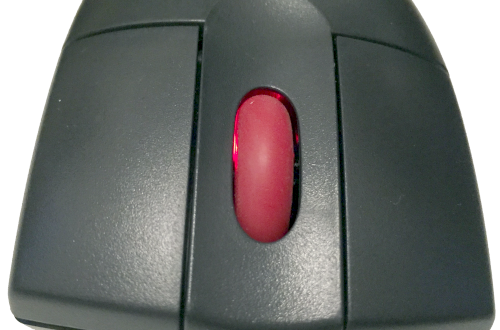 After the LED is installed, you should be able to see a subtle glow behind the wheel.
MO28UOL - Revision B
This revision uses an almost completely different circuit board, eradicates the use of the smaller square switches, and removes the spot for an extra LED. Also, the IBM logo is now printed considerably lower on the mouse as previously mentioned. Finally, the mouse is more of a shiny black instead of the IBM matte 'business grey'.
Lenovo has also released this model under their branding, they sometimes have produced them with yellow wheels under the same model, so finding one with a yellow wheel is hit or miss. I've often wondered if you paired the yellow wheel with the burgundy MO28BO you would get quite the colour contrast (although unfortunately MO28BO uses a different wheel assembly).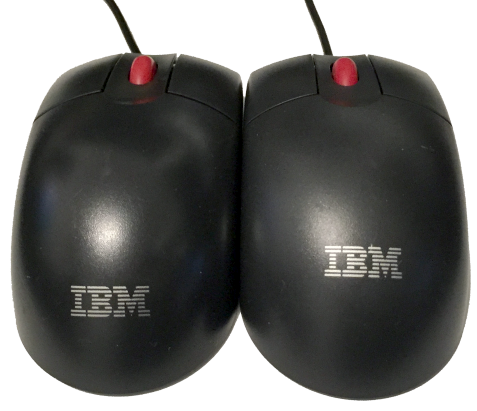 MO28UOL left, MO28UO right.
19K2002 - IBM 4 Button Navigator Mouse
This is essentially a ScrollPoint Pro III with a wheel instead of a ScrollPoint. One advantage is that it allows four buttons now; since the wheel is also considered 'clickable'.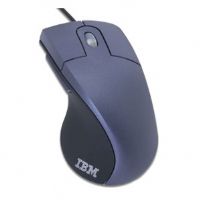 The wheel does light up, click the picture for a larger image. Curiously enough these were only made in 'Slate Blue;' most likely were discontinued when the ScrollPoint III Pro was released: which is why Lenovo never manufactured any instances of them.
SK-8812 - 'Enhanced' Wireless Mouse
The last wireless mouse ever manufactured by IBM. Early ones will show 'manufactured by IBM', later ones will be 'manufactured for Lenovo' and may or may not sport a Lenovo logo. This was was never sold separately from the keyboard. Its unique feature was that it was *completely* coated in the IBM rubber. One down side of this is that the rubber will wear down eventually. Usually in only a matter of months. Also the battery gets drained down quite quickly.
Fun things to do with IBM Optical Mice
Because the components on the IBM wireless mice are so closely identical, the wheels (and external plastics) can be swapped around to make some customized versions. Here we see the slate blue sporting the red wheel and the business grey with a black wheel: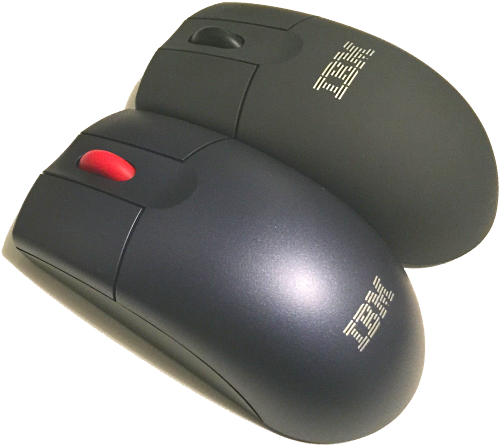 MO02W / MO02B - IBM Versatile Scroll Mouse
Released in the late 90's with a bunch of programmable buttons (mice at that time were full of many gimmicks). These ones are not optical, but are worth mentioning nonetheless. I believe this is the most button-laden mouse IBM has ever released comprising of a total of six. They came in pearl white (W) or black (B).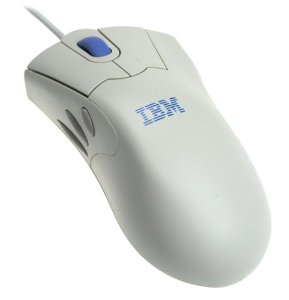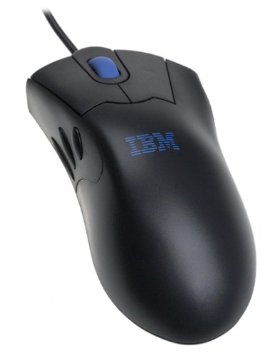 Alternative numbers
I've seen IBM and Lenovo list the the optical mouse under 40K9200 and 06P4069, but these are not IBM standard model numbers... an IBM mouse model always begins with MO (for MOuse), and wireless mice being with RO. I think both of these are MO28UOL with Lenovo logos slapped on them. This would also explain why Lenovo's 06P4069 states being released in 2003-- which would fit exactly when MO28UOL was released; that means this mouse has been actively produced for over a decade.
Misc
One odd non-wheel mouse, but still based on the same template as the wheelers, is the pure three-button IBM mouse. I'm under the impression this may have been a special order mouse as they were never generally advertised. These were actually made by Logitech for IBM.
M/N: M-SBK IBM7
FRU: 89P5069
<!||||||||||||||||||||||||||||||||||||||||||||||||||||||||||||||||||||||||||||||>