Information and Software for the ThinkPad T61 / T61p
System Types: 6480, 6481, 7658, 7659, 7660, 7661, 7662, 7663, 7664, 7665, 8889, 8890, 8891, 8892, 8893, 8894, 8895, 8896, 8897, 8898, 8899, 8900, 8938, 8939, 6457, 6458, 6459, 6460, 6461, 6462, 6463, 6464, 6465, 6466, 6467, 6478, 6470, 6471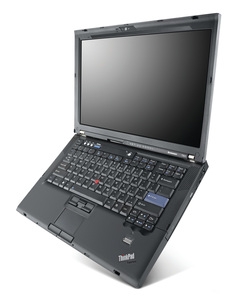 <!||||||||||||||||||||||||||||||||||||||||||||||||||||||||||||||||||||||||||||||>
Released in 2007, the T61 series marked a departure from IBM branding as well as a forray into 15.4" widescreen. A lot of the design characteristics were carried over from the T60 series. Most of the T61s came with Merom Core2 CPUs, but later ones came naturally with Penryn; although not as common especially on the 14" fullscreen models. The use of Penryn CPUs in Merom-based boards can be achieved through the Middleton BIOS which actually just removes the thermal error on bootup.
The T61 also re-introduced unequal hinges (much like on the T4x series); some seriously consider this to be a negative aesthetic and prefer the T60 chassis as a result.
Software and Drivers
--> T61 Hardware Maintenance Manual
--> T61 Service and Troubleshooting Guide
--> T61 Nvidia NVS 140M Driver (Windows 7 64-bit)
--> SoundMax Audio Driver (Windows 7 64-bit)
--> Middleton BIOS (Penryn and de-Whitlisting support)
nVidia GPU bug
The T61 famously suffers from a bad batch of GPUs nVidia manufactured with a flawed procedure to save a few dollars. All OEMs (not just Lenovo) were afflicted by this: perhaps HPs were a bit more prominently as heat highly agitated the flawed ICs.
4:3 T61 Motherboards - IBM to the rescue
Lenovo actually ignored to repair any of the 4:3 T61 motherboards; as a result when the nVidia chips on them started to fail in the masses, equally defective boards were swapped in until all of the warranties expired and Lenovo didn't have to deal with it anymore: the 4:3 models were only produced during the first span of the T61s lifetime briefly. Basically the 4:3 were a write-off and Lenovo only gave special treatment to the wide screen models that they continued to produce. However since IBM still sold 4:3 T61s to their corporate client base, IBM had to step in and get 4:3 T61 mobos with repaired (good) nVidia GPUs. So there are 'good' 4:3 nVidia motherboards floating around all thanks to IBM and not Lenovo.
T601 mods
Already brought up in the T60 page, T61 motherboards can be made to work in T60 chassis with some minor modifications by the use of a hacksaw. And you can also put the 15.4" motherboards in 14.1" chassis for the maximum amount of memory (256 MB) in the smallest form factor. These motherboards have played a huge role in allowing the T60s with their displays to live on with slightly better specifications and performance.
T61 Wiki
Just a local copy of the T61 wiki page, *just in case* it ever gets deleted.

T61 ThinkWiki Archive Page
14.1" T61 Motherboards
Here's a list of all 14.1" motherboards from the hardware maintenance manual. To perform a 'T601' mod on a T60, one of these will have to be selected.
System board assembly, Intel Crestline GM with AMT
42W7648 <-- older board w/ false positive thermal sensing error

System board assembly, Intel Crestline GM with AMT
42W7872 <--native penryn support

System board assembly, nVIDIA NB8M-GS with AMT
42W7649

System board assembly, nVIDIA NB8M-GS with AMT
42W7873

System board assembly, nVIDIA NB8P-GL with AMT
42W7650

System board assembly, nVIDIA NB8P-GL with AMT
42W7874

NOTE: This page still has a lot more information and resources I need to update it with. I will get to it some time eventually. I did have some of the special BIOSes that were made to run quad core CPUs but I think I lost the files... and they're no longer availble on the chinese websites unfortunately. If anyone wants them to be kept safe for posterity email them to me and I'll put htem up.
Specifications
----CPU Options----
*Intel Core 2 Duo
----Audio----
*SoundMax
----Video----
*Intel Graphics, nVidia GeForce/Quadro
----Memory----
8GB Max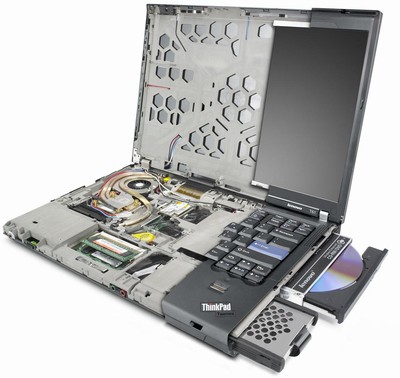 <!||||||||||||||||||||||||||||||||||||||||||||||||||||||||||||||||||||||||||||||>