<!||||||||||||||||||||||||||||||||||||||||||||||||||||||||||||||||||||||||||||||>
The IBM 'Enhanced' Wireless Keyboard was IBM's last wireless keyboard: released in 2004 and retailing for $79. It had a lot of luxurious features not offered on the standard IBM issue keyboards and not in many other keyboards in general.
The SK-8812 features 6-key rollover along with a rubber coated palmwrest, audio buttons, macro buttons and a three-height adjustment (dual piece legs much like the 122 Model F terminal keyboards). Interestingly enough, the IBM Enhanced Keyboard (non-wireless) is not 6-key rollover. So this one has superior circuitry and would be ideal in situations where you need to hit multiple keys at once.
--> IBM Wireless SK-8812 Hardware Announcement
Along with the keyboard is an IBM wireless dongle, and a mouse that is *completely* coated in the IBM rubber paint. Unfortunately as most users still for some reason prefer scroll wheels over ScrollPoints, it only comes in the wheeled variant. The logo on the mouse was also moved higher up as to reduce it from wearing off: the stock photo shows the logo at the rear: which is not the case for production units. Every time the wireless dongle recieves an input command from either the keyboard or mouse, the USB dongle will light up with a green ring.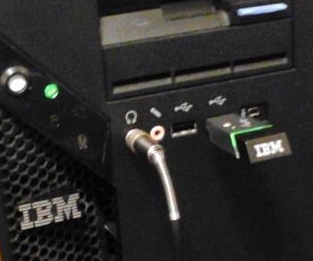 The letter print is decently resilient; however the spacebar develops a shiny spot within just five weeks of constant use. Being one of the last keyboards IBM made, the engineers put a lot of special attention to it and it excels in quality than most rubber-dome based keyboards.
The largest complaint I have is honestly the mouse (use a nice corded ScrollPoint instead). While the rubber wheel is nice to the touch, it's so inferior to the ScrollPoint mechanism. The rubberized coating on the mouse chassis will eventually wear off leaving patchy stark plastic spots, and it drains the battery rather quickly. Not to mention the mouse seems to have some problems reacting after it has not been used for a few seconds; the keyboard is not afflicted by this so I'm not sure why the mouse behaves in that manner. After 2005 Lenovo manufactured these 'Wireless Enhanced Keyboards' under their brand until 2009. They were discontinued presumably due to the "IBM look" and expensive manufacturing costs.
I keep the mouse purely as a curiosity and nothing more.
Software and Drivers
--> IBM USB Enhanced Performance Wireless Keyboard & Mouse Driver 3.0 (Windows XP through 8)
The driver adds some floating indicators for caps lock / scroll lock / numlock, and also has statistics on signal strength and battery power.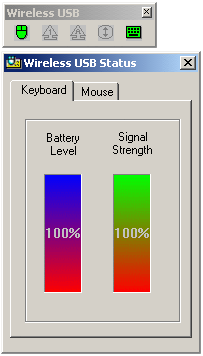 Misc. Information
Found a deal for an IBM Enhanced Wireless Keyboard and found out it doesn't come with the wireless dongle? The FRU is: 89P8757. There are some retailers out there which carry that particular dongle, but usually on the pricey side.
When installing the driver, you can skip the mouse driver (which is separate) if you're not planning on using the wireless mouse.
<!||||||||||||||||||||||||||||||||||||||||||||||||||||||||||||||||||||||||||||||>