Personal System/2 Model 33 'PS/2E' Information and Software
System Type: 9533 "Green Machine"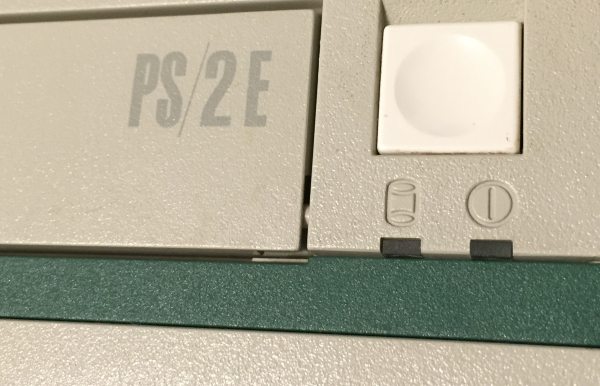 <!||||||||||||||||||||||||||||||||||||||||||||||||||||||||||||||||||||||||||||||>
The IBM PS/2 Model 33 (designed by Peter Smith) was released in 1993 after the Model 9595 but curiously sporting ISA instead of MCA. It was the first 'energystar' approved computer and was manufactured with recycled plastics. This aspect of environmental friendliness is designated by the emerald stripe across the system. It was also designed to consume low-power and easily be recycled after its usefulness had expired.
The reason for the ISA bus could be attributed to a few things: #1 IBM didn't feel like developing an MCA PCMCIA card, #2 due to being one of the last (if not the last) PS/2 made, ISA could have been chosen in favour of MCA due to MCA's falling share with home users.
Some enthusiasts will claim any of the non-MCA PS/2s are not 'true' PS/2s (which is ridiculous as they all implement some sort of IBM proprietary standard across the board). A PS/2 isn't defined by the MCA bus alone, in other words.
Note: you can force Windows 95 to install the MCA XGA-2 driver and the PS/2E will take it. Unfortunately due to the fact XGA-2 is implemented on an ISA bus, it's a bit slower.
Downloads
Pending
Key Features
The first unusual aspect of these systems is the use of the IBM 486'SLC2' microprocessor (which was released in 1992-- logical that a dedicated system using this CPU would be released a year later). This is essentially a 386SX that has been hypercharged to the point where it's now considered a '486'. The extra L1 cache really helps this processor perform beyond its typical ratings: however as the CPU is still an SX at heart, the external bus is limited to 16-bits: which means you can't go over 16 MB of RAM.


The power supply is only 24 watts and passive as a result with no fan; but extra care has to be taken to not destabilize the power supply. Using a power-hungry ISA card will halt the PSU.


The ISA risercard is connected to the motherboard with (ironically) an MCA connector; perhaps Peter Smith attested the MCA connector would be more compact than if an ISA-to-ISA connector was used. The HDD mounting bracket has non-standard mounting holes designed for us with 2.5" IBM DeskStar laptop hard disk drives.


A full sized PC speaker? It has one. Strange that this tiny computer has a full sized PC speaker, whereas the PS/2 Model 30 does not. It looks like NMB was sourced as a manufacturer for these speakers.


A ThinkPad diskette drive was used: be VERY careful not to tear the ribbon cable.
All things considered, I would recommend choosing SIMMs with less density if you don't need the full 16MB to save power, and you could use a solid-state HDD to save on even more power. Since the system has no onboard sound, you'll in no doubt use the ISA slot for a sound card.

rear connections of the PS/2E
<!||||||||||||||||||||||||||||||||||||||||||||||||||||||||||||||||||||||||||||||>