<!||||||||||||||||||||||||||||||||||||||||||||||||||||||||||||||||||||||||||||||>
Downloads
--> OS/2 Warp (PowerPC Edition) A First Look
Exactly one year later in December of 1995, the final release of OS/2 PowerPC shipped, unlike the beta this was a pseudo-commercial release for anyone who had a PowerPC ThinkPad or Power Series desktop and access to an IBM representative to request purchasing it. It's really surprising the product even shipped as the writing was on the wall--so rushing to release it in an unfinished state never benefitted anyone. As most have observed, the beta is more of an alpha, and this final release is more of a beta. OS/2 Warp PowerPC does not have networking which has been a larger problem with the operating system; this is in part due to OS/2 x86's initial design around the 286 and reliance of 16-bit drivers that are hard-coded to the x86 instruction set. Porting them wouldn't have been an easy task and it looks like they ignored them for exactly that reason.
On the flipside of things, during the development of OS/2 PPC the x86 flavour was generally ignored during this time; so advanced driver development like GRADD started out on PPC and was only ever going to ship on OS/2 PPC. But since x86 OS/2 still had a user base after the PowerPC variant failed, IBM reluctantly started back porting a lot of the technologies developed on the PPC edition into the x86 edition.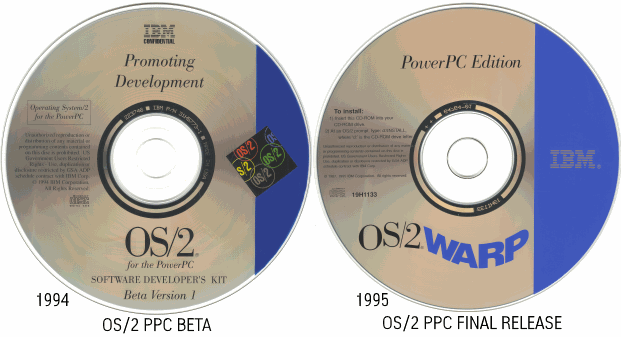 Photo: OS/2 Museum
OS/2 PowerPC Notices
Even though this product wasn't supposed to be a beta, there are still a handful of notices contained in the readme document--this can easily be observed as to how COM1 is still operating as a debug port and only COM2 is avaliable for regular usage.
1: Do not attach any Serial Devices to the first Serial Port. COM1 is reserved for the kernel debugger. Only COM2 is available for use by applications.
2: Keyboard does not work: If the PowerPC restarts due to a brief (under 1-2 seconds) power interruption, the keyboard might not work. To make the keyboard work, unplug and reinsert the plug.
3: Many DOS and Windows applications try to access the CD-ROM drive even when you are installing from diskettes. If this occurs, place a data CD in the CD-ROM drive. If you do not have a CD to put into the CD-ROM drive, you will have to follow the directions given by the application to either end the installation or bypass the problem. For example, Quicken accesses the CD-ROM drive. Quicken will display an error box if you do not have a CD. If you press "CANCEL" several times, the install program will finish and Quicken will run.
4: Intermittent Boot Problems: If your system will not start, power off and try it again. If this happens 3 times, it is suggested that you reinstall the system. Your disk might have been damaged.
5: Mouse Action Response: Heavy use of applications or other excessive disk I/O activity tends to make mouse actions sluggish.
6: Key Combinations: Ctrl+Alt+Del occasionally does not work. If it does not work, wait 30 seconds and turn off your system. This will help ensure that your system will not become corrupted.
7: Removable Media: Do not remove media from your drive when files are open. Attempting to use the 'B:' drive will hang your system.
8: Help Manager: Searches of IPF online information in languages other than English might not produce the desired results.
9: Do not uninstall the IBMWorks product or you will experience system problems.
10: When viewing the Summary Page of the Features Install Catalog, the Space Required column will contain all zeros, while the Target Drive(s), and Installed Version columns will contain blanks.
11: The Features Install Catalog will create a folder for the BonusPak, Documentation, and Games features even if you deselect all of the features on their catalog pages. After the installation is completed, just remove the empty folders from the Desktop using the Installed Features object.
12: You should close the Features Install Catalog after each use. Failure to do so might cause problems with the Summary Page in the catalog.
13: Open Folders: Open folders do not refresh when you add files or directories from the command line.
14: Archive/Recovery: Saved Desktops cannot be restored.
15: Mouse Support: Your mouse might not work correctly while you are using some DOS applications. Symptoms include corruption or invisible mouse pointers.
16: Communications Support: Communication through COM ports is not supported for DOS and Windows applications.
17: DOS Emulation and WIN-OS/2 Printing: If you are printing from a DOS session, you must wait for the printing to complete before printing from WIN-OS2, another DOS session, or the OS/2 Print Object. If you do not wait for the printing to be completed, the result will be intermixed printer output.
18: Enlarging Fonts: When fonts are enlarged within WIN-OS/2, font corruption might be seen within WIN-OS/2.
19: Many WINOS2 applets show paint and draw errors in both full-screen and seamless modes. Errors are particularly noticeable in Paintbrush and the calculator. Many Paintbrush tools don't work properly and the calculator window can be corrupted when repainting after move/resize operations.
20: DOS Sessions, including WINOS2 full screen sessions, cannot be started on the Weitek P9100 adapter.
21: Some applications may not save/restore properly. If you are running a DOS application that you find is not being properly saved and restored, it is advised that you run the application to completion prior to switching back to the desktop.
22: Do not use the "START" command in an OS/2 command prompt to start WINOS2 or Windows programs. For example the following commands may cause session startup errors when executed from an OS/2 command line:
[C:\]start /win win.com
[C:\]start win.com
[C:\]start /win clock.exe
23: Many WINOS2 applets show paint and draw errors in both full-screen and seamless modes. Errors are particularly noticeable in Paintbrush and the calculator. Many Paintbrush tools don't work properly and the calculator window can be corrupted when repainting after move/resize operations.
24: Windows applications with known errors: SHOWDIB - Causes GP Fault when run in Seamless mode. Windows Screen Saver - Video gets corrupted and session will close spontaneously.
25: The default WIN-OS2 full screen display driver is called S3.DRV. This driver supports only 1024x768 resolution at 256 colors.
26: ***DO NOT*** use the WIN-OS2 notebook page to update the resolution for WIN-OS2 sessions. WIN-OS/2 resolutions may be changed manually by editing the system.ini file in the \os2\mdos\winos2 subdirectory.
27: NOTE: Performance on your system is adversely affected while running the OpenGL samples. This implementation of OpenGL is completely software; thus it is CPU-intensive.

System Requirements
OS/2 Warp (PowerPC Edition) requires 16 MB of memory, a CDROM drive, and a minimum of 300 MB hard disk drive.
OS/2 PPC Video Information
The OS/2 PPC readme goes into some detail about GRADD and OpenGL, extracted and reproduced below:
Video Subsystem: The video subsystem for this product consists of several different components. The major video related components which have a direct effect on the video graphics adapter are as follows:
GRADD: The graphics adapter device driver.
VIDEOPMI: The centralized video protect mode interface.
VVIDEO: Virtual video device driver.

The GRADD represents the new model for Presentation Manager device drivers. It services requests on behalf of the Presentation Manager Subsystem translating those requests into either accelerated graphics operations or software simulated operations.
VIDEOPMI is responsible for managing the video devices in terms of both resources (H/W I/O ports and memory) and modes. VIDEOPMI sets the mode and refresh rate (optionally) for the Presentation Manager device driver (GRADD). VIDEOPMI also services mode and save/restore requests for OS2CHAR (the OS/2 character device driver).
VVIDEO is responsible for managing the video adapter for Virtual DOS Sessions. VVIDEO saves and restores the video adapter state in response to a hot key event (Alt+Esc or Ctrl+Esc). VVIDEO also manages and virtualizes the display adapter subsystem when a session is minimized, in the background or windowed.
Seamless WIN-OS2 is implemented and enabled for this release.
User tips for VIDEOPMI: The SYSTEM object in the system setup folder lists the modes supported by VIDEOPMI and the GRADD. Use the SYSTEM object to specify the desired video mode for the PM desktop. This support is valid for all video chipsets which are supported in this product release (S3_928, S3_864, P9100).
User tips for VVIDEO Virtual Video: Some DOS applications may appear to run at a reduced pace. From a virtual video perspective, and in this product, performance enhancements have not been fully exploited to facilitate direct port I/O. Support for this product is restricted to the S3_928 and S3_864 chipsets.
OpenGL on OS/2 for PowerPC: The floating-point performance of PowerPC makes this software implementation of OpenGL feasible. The OpenGL graphics pipeline was tuned for PowerPC when OpenGL was implemented on AIX. Our implementation will benefit from this tuning due to our common code base with the AIX platform.
<!||||||||||||||||||||||||||||||||||||||||||||||||||||||||||||||||||||||||||||||>