AIX Custom Backgrounds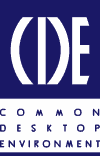 <!||||||||||||||||||||||||||||||||||||||||||||||||||||||||||||||||||||||||||||||>
AIX natively supports custom backgrounds through CDE (Common Desktop Environment), but AIX CDE is older and has a few extra steps. Also provided here are pre-converted backgrounds for use that can immediately be placed in AIX; I chose the most commonly used resolutions in AIX (I think 1080p began support on AIX 7.1 but that may be incorrect).
Downloadable Backgrounds
How to create custom background on AIX CDE
Create your backdrop the size(s) of the monitors you'll be using it on, like 1600x1200 or whatever
Reduce the colour of the final image to 80 colours or less (save as PNG format as JPEG will re-encode and add more colours again)
Convert the outputted colour reduced PNG to a XPM (i.e. yourimage.png to yourimage.xpm)
Rename yourimage.xpm to yourimage.pm (apparently AIX CDE references .pm instead of .xpm, even though they're the same file type)
Copy it to: /usr/dt/backdrops
Edit the desc.C text document with another definition for your image (yourimage.pm) now added to the catalogue
If you're just downloading one from above and using that, you'll just need to copy it over into /usr/dt/backdrops and then edit desc.C as appropriate.
<!||||||||||||||||||||||||||||||||||||||||||||||||||||||||||||||||||||||||||||||>